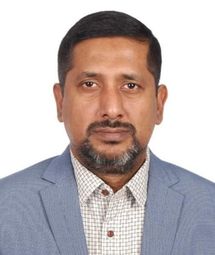 M. Salahuddin Chowdhury is the Executive Director of Gazi Group of Industries Limited. As Executive Director, he is associated with the Strategic Planning, Growth, and Expansion of the Companies of the Group. He looks after the Strategic Planning, Growth, and Expansion of Gazi Tanks (Manufacturer and Distributor of Water Tanks and Sinks), Gazi Tyres (Manufacturer and Distributor of Tyres of Commercial and Non-commercial Vehicles), Gazi Pipes (Manufacturer and Distributor of Water Pipes, UPVS Pipes and Fittings), Gazi Doors (Manufacturer and Distributor of UPVC Doors), Gazi International (Importer and Distributor of Water Pumps, Gas Stoves, and Tubewell), Gazi Satellite Television Ltd. (Television Channel), Gazi Networks Ltd.(Interconnection Exchange in Bangladesh for Mobile and PSTN Operators), and Gazi Communications (VSAT Service Provider and Elite Partner of Juniper Networks in Bangladesh) of Gazi Group. He is the representative Director in Jamuna Life Insurance Company and Independent Director in Republic Insurance Company Ltd. He is also the Managing Director of Content Matters Limited.
Before Gazi Group, he was the COO of Access Telecom (BD) Ltd. and Alap Communication Limited for 12 years. He has a BBA and MBA in Marketing from the Institute of Business Administration (IBA) University of Dhaka, Bangladesh, the most prestigious educational institution in Bangladesh. Mr. Chowdhury was the Organizing Secretary of the IBA Alumni Association (IBAAA) and Old Laboratorians' Association (OLsA) which allowed him close and regular contacts with the top management professionals in the country. Prior to joining Access Telecom he spent 5 years at TRIBE Computer System as co-founder and Managing Director. Mr. Chowdhury Participated in "The Training Program on Information Technology for Bangladesh [BAIT]" organized by Association for Overseas Technical Scholarship (AOTS), Yokohama Kenshu Center (YKC), Japan. He also joined different training programs in the country and outside the country.
He is the director of Bangladesh Cricket Board (BCB). As a Chairman of CCDM, he Manages Different Cricket Clubs of Different Leagues under Bangladesh Cricket Board (BCB). He is also Permanent & Life Member of Different Social Clubs in Dhaka City. He is one of the Directors of IBA Alumni Club Limited.